The beckets of Capt. Thomas L. Crosby's Dittybox
De handvatten van Capt. Thomas L. Crosby's Dittybox
Most all of you knottyers have probably seen the plans for this ditty box. They are described in a very clear way in "The Marlinespike Sailor" by Hervey Garrett Smith. Hereafter you can see, in photographs, the process of the making of the beckets which were once made by the late captain. I have tried to make them as close to the original ones as possible.
De meeste van jullie knopenleggers hebben vast wel eens de plannen voor deze "Ditty box" gezien. Ze staan op een heel duidelijke manier beschreven in het boek "The Marlinespike Sailor" geschreven door Hervey Garrett Smith. Hierna volgen een aantal foto's waarop je kunt zien hoe deze handvaten zijn te maken. Ik heb geprobeerd om ze net zoals de originele te maken.
Photograph 1 shows a grommet which is used for the foundation of the becket.
Op foto 1 zie je een grommer die dienst doet als basis voor de handvatten.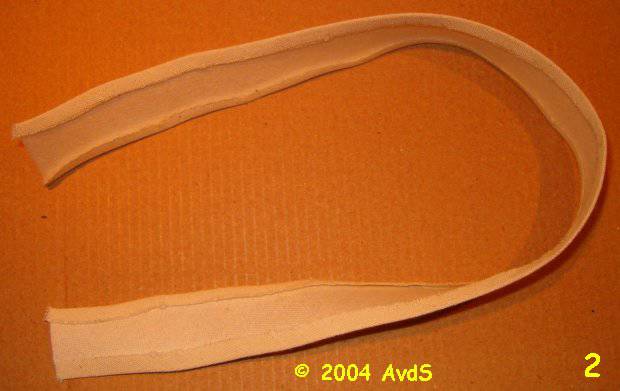 In photograph 2 you see a cotton cloth strap which was cut out diagonally. This prevents the cotton strap from raveling out and, also important, the strap can be stretched in all directions. The edges are folded over and (steam) ironed.
Op foto 2 zie je een strook katoen. Deze wordt diagonaal uit een lap geknipt waardoor de strook nauwelijks uitrafelt, en rekbaar is in alle richtingen. Dit is belangrijk als hij om de grommer heen wordt gestikt. Om het geheel wat steviger te maken zijn de randen omgevouwen en vlak gestreken met een (stoom) strijkijzer.
In photograph 3 you can see the start of the covering of the grommet with the cotton strap. Use very tiny stitches and make sure that they stay on the inside edge of the grommet.
Op foto 3 zie je het begin van het bekleden van de grommer met het katoen. Gebruik hele fijne steken en zorg ervoor dat ze aan de achterkant van de grommer blijven.
In photograph 4 you see the totally cotton covered grommet.
Op foto 4 zie je de geheel met katoen beklede grommer.
In photograph 5 you see that the cotton covered grommet has been wormed with dark blue cord. This cord lies properly in the space between the strands of the grommet.
Op foto 5 zie je hoe de beklede grommer met donkerblauw koord is getrensd. Het koord ligt netjes strak in de ruimte tussen de kardelen van de grommer.
In photograph 6 you see a leather strap which is also sewed onto the grommet. Photograph 7 shows a detail of the pinked edge.
Op foto 6 zie je een lederen strook die ook om de grommer heen gestikt wordt. Op foto 7 is een detail van de gekartelde rand te zien.
In photograph 8 you see the start of how the leather strap is sewed onto the grommet.
Op foto 8 zie je hoe er een begin is gemaakt met het vaststikken van de lederen strook om de grommer.
In photograph 9 you can see what the becket looks like after sewing on the leather.
Op foto 9 zie je hoe het handvat eruit ziet nadat het leder is aangebracht.
In photograph 10 you can see that two small Turk's head knots were added to finish the job.
Op foto 10 zie je hoe ter afwerking nog twee Turkse knoopjes zijn aangebracht.
In photograph 11 you can see the two completed beckets.
Op foto 11 zie je de twee komplete handvatten.
In photograph 12 you can see how the becket is fastened to the ditty box.
Op foto 12 zie hoe het handvat aan het kistje is bevestigd.
In photograph 13 you can see a side view of the ditty box.
Op foto 13 zie je een zijaanzicht van het kistje.
In photograph 14 you can see the ditty box with the lid open.
Op foto 14 zie je het kistje in z'n geheel met geopend deksel.