Sailmakers Whipping / Zeilmakers takeling
Take a sailmakers needle and a piece of twine and reeve it through one of the rope's strands.
Neem een zeilmakers naald en een stuk dunne lijn of garen en steek dit dwars door een streng van het touw.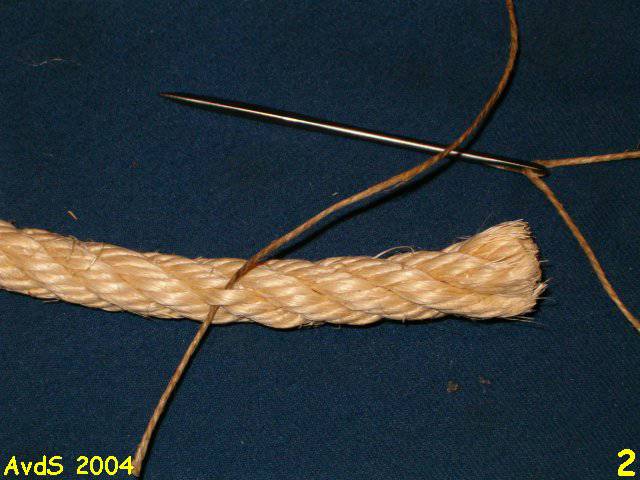 Reeve the line through the strand and make sure that a small length will remain. This will disappear under the turns you are about to make.
Trek de lijn door de streng en zorg ervoor dat er een klein stukje uit blijft steken. Dit stukje verdwijnt onder de rondtorns.

Make a number of round turns, against the lay of the rope, until the length of the whipping is about the diameter of the rope. Now pass the needle through a strand. The needle should emerge in the contline between two strands. Draw up snugly.
Maak nu een aantal rondtorns tegen de slag van het touw in totdat de lengte van de takeling ongeveer gelijk is aan de diameter van het touw. Steek dan de naald door één van de strengen heen zodat hij uitkomt in de tier tussen twee strengen. Trek het geheel strak aan.
With the twine, go over the whipping and make a stitch through a strand again. The twine will lay in between two strands. Keep on repeating this process until you have done all the strands.
Ga met takelgaren over de takeling heen en steek de naald vervolgens weer door een streng heen. Het takelgaren komt in de tieren van het touw te liggen. Trek na elke doorsteek strak aan. Blijf dit proces herhalen totdat je alle strengen hebt gehad.
To finish the whipping stick the needle through the rope and secure with a half hitch or simply cut off the twine.
Om de takeling af te werken wordt het takelgaren door het touw gestoken en eventueel met een halve steek vastgezet.
As a last step the rope itself is cut off close to the whipping.
Als laatste wordt het touw zelf dicht bij de takeling afgesneden.